Although Sabanci University is located relatively far away from the city centre in Istanbul, there are daily Sabanci shuttles and local busses available to and from Sabanci University that make travelling around Istanbul a lot easier. Sabanci Shuttles are in affiliation with the Gursel Company in Turkey. These shuttles are very comfortable, and have space in it for everyone. If for instance there are more students than seats in the buses, then a second but similar bus is appointed to take students to their destination. Thus students do not have to worry about not having enough space on the shuttle. In order to use the Sabanci shuttles, students just have to recharge money into their SU cards. (The SU card is given to every student as soon as they enroll in Sabanci University). Students can recharge money into their cards from the Gursel office which is located where all the shuttles depart from. Sabanci shuttles travel between Sabanci University campus and Taksim, Kadikoy and Viaport at different times during the day. These shuttles have fixed schedules on weekdays and weekends, and all students can view this schedule using their "Mysu account". One of the advantages of having these shuttles is that they charge easily affordable prices. For instance, Sabanci-Taksim costs only 9 Turkish Liras one way, Sabanci-Kadikoy costs only 7 Turkish Liras one way, and Sabanci-Viaport costs only 2 Turkish Lira one way. Another good thing about the Sabanci shuttle service is that it departs exactly at the time stated on the schedule. So if you are planning on going around Istanbul using one of these shuttles, make sure you arrive at your designated area on time.
Additionally, upon special request, local city buses also work at different times of the day in between the Kartal Metro Station and Sabanci University. This city bus departs from the shuttle area at Sabanci University, thus making it convenient for students to travel in it.
With all these comforting services available for Students, travelling around Istanbul is definitely convenient.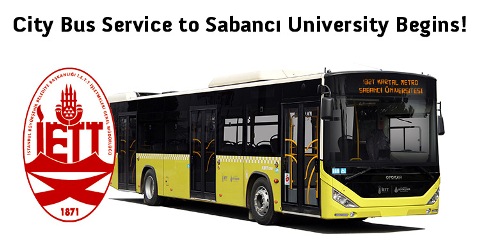 Undefined